Fujitsu eyes enterprise security with HTML5 app platform
Kawasaki, Japan, January 21, 2013 — Fujitsu Laboratories Limited today announced the development of technology that makes it possible to transfer files between a PC and a mobile device by simply using a mobile phone or tablet to capture a video of a file displayed on a PC screen. The new technology is based on Fujitsu Laboratories' previously developed intermediary image communications technology(1), which enables communication between a PC screen and a mobile device by superimposing invisible communications data into images that can be captured by a mobile phone camera.
By superimposing IP addresses and other device-specific information that is invisible to the human eye onto a PC screen in real time, the technology can identify the target PC when the user takes a video of the screen with a mobile phone camera. A communications path between the target PC and mobile phone then gets established and transfers the file displayed on the screen to the phone. This makes it easy to transfer a file with a simple image capture, unlike existing methods that require complicated operations, such as having users search for and select a file from the phone's file menu. The technology is expected to lead to a variety of applications, such as forwarding photographs captured on a mobile phone to a PC or enabling multiple users to simultaneously download individual copies of presentation materials to their mobile phones during a meeting by shooting the screen displaying the presentation.
Fujitsu plans to exhibit the new technology at Mobile World Congress (MWC) 2013, to be held in Barcelona, Spain on February 25-28, 2013.
Background
Thanks to the advanced capabilities of mobile phones and the popularization of tablet devices in recent years, tasks that were previously only viable with a PC, such as viewing and editing files, are now possible on mobile devices. As a result, there is a greater need to be able to transfer files between PCs and mobile devices. For example, users often copy files created on their PC to a mobile phone or tablet, where they can view or edit them. They are also capturing photographs or video clips on a mobile phone and then copying them to a PC which they then use to view them. At the same time, for the average user, connectivity between PCs and mobile phones still poses a considerable barrier, and solutions have been sought to simplify the process of transferring files between the two.
Technological Challenges
A number of methods exist for transferring files between a PC and mobile phone such as transferring via a USB cable, a Wi-Fi connection, or sharing files over the cloud. With these methods, users are typically required to configure the connection of the devices or, in the case of cloud computing, the files are transmitted over the Internet which poses security risks when dealing with sensitive company files. However, each of these approaches requires users to perform complicated operations to search and select specific files from a file menu. Previously, an approach that could be intuitively performed in just a few steps was not possible.
With regard to an approach for transferring files between PCs and mobile phones, methods that employ image detection technology to analyze images of a PC screen captured by a mobile phone camera already exist. However, because no unique identifier information, such as the PC's IP address can be identified by such technology, such methods have required users to go to the trouble of preparing a way for the PC and mobile phone to communicate with each other.
Newly Developed Technology
Fujitsu Laboratories has developed technology that can automatically transfer a file displayed on a computer screen to a mobile device simply by holding up a mobile phone pointing the camera at the computer screen.
Key features of the new technology are as follows:
1. Intermediary image communications technology for PC screens
This technology can superimpose invisible communications data within the PC screen in real time. Such communications data—including IP addresses, SSIDs or other any related IDs—is used for the purpose of identifying a PC that is connected to the network. To superimpose the communications data, Fujitsu Laboratories' intermediary image communications technology is employed. The intermediary image communications technology superimposes microscopic light signals into the image, and by adjusting the number of these light signals, it can transmit information through the soft projection of light, similar to how optical communications work. The technology is used to convert communications data into signals that are invisible to the human eye, and superimpose them into the PC's desktop. Because the signal is superimposed in the desktop, no modifications to the original files are required. The technology enables the target PC to be identified simply by shooting a video of the PC screen with a mobile phone camera.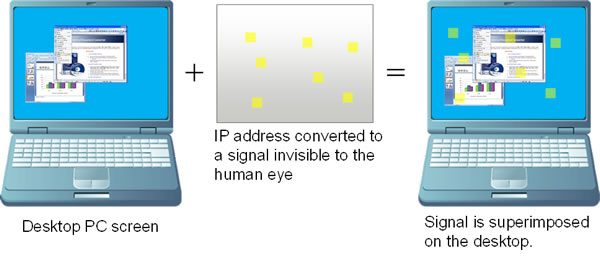 Figure 1: Communications information superimposed on a PC screen
2. File transfer technology
This technology constantly monitors the files that are being displayed on screen and then automatically transfers the foremost file displayed when a file transfer request is received from a mobile phone. Monitoring of the files displayed on screen is performed by special software installed on the PC. This software analyzes the status of the PC desktop and extracts information on the foremost file displayed on the screen. When a file transfer request arrives from a mobile phone, the foremost file displayed on the screen is transferred to the mobile phone using FTPS or another secure file transfer protocol. This technology makes it possible to easily transfer a file by shooting a video of the PC screen without requiring any complicated operations, such as file selection.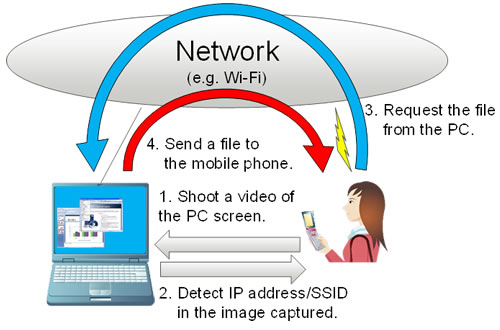 Figure 2: Principle of operation
Results
This technology makes it possible to easily transfer files between a PC and mobile phone by simply holding up a mobile phone to the computer screen. It opens the door to a wide range of possible applications, including:
People in meetings can simultaneously download presentation materials displayed on a screen
Transferring photographs taken with a mobile phone to a PC
Prior to a business trip, transferring files partially edited on a desktop PC to a notebook PC
Transferring half-finished documents from a home PC to a mobile phone to read on-the-go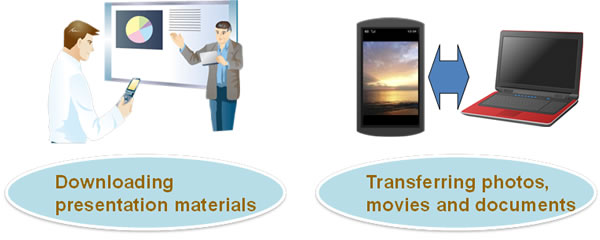 Figure 3: Usage scenarios
Future Plans
Going forward, in aiming to commercialize the technology during fiscal 2014, Fujitsu Laboratories will work to improve the technology's speed of communications from PC screens to mobile phones.
---
Glossary and Notes
1 Intermediary image communications technology:

This technology enables information to be transmitted from a TV to a mobile device in the form of an image on which are superimposed many microscopic light signals imperceptible to the human eye.
About Fujitsu
Fujitsu is the leading Japanese information and communication technology (ICT) company offering a full range of technology products, solutions and services. Over 170,000 Fujitsu people support customers in more than 100 countries. We use our experience and the power of ICT to shape the future of society with our customers. Fujitsu Limited (TSE:6702) reported consolidated revenues of 4.5 trillion yen (US$54 billion) for the fiscal year ended March 31, 2012. For more information, please see http://www.fujitsu.com.
About Fujitsu Laboratories
Founded in 1968 as a wholly owned subsidiary of Fujitsu Limited, Fujitsu Laboratories Limited is one of the premier research centers in the world. With a global network of laboratories in Japan, China, the United States and Europe, the organization conducts a wide range of basic and applied research in the areas of Next-generation Services, Computer Servers, Networks, Electronic Devices and Advanced Materials. For more information, please see: http://jp.fujitsu.com/labs/en.
Press Contacts
Fujitsu Limited
Public and Investor Relations Division
Technical Contacts
Fujitsu Laboratories Ltd.
Media Processing Systems Laboratories
Image System Lab.


E-mail: video2mobile@ml.labs.fujitsu.com